Just as the world is recovering from the pandemic, there has been significant growth in user engagement on social media applications. As people were following social distancing to safeguard themselves from the pathogens, they were confined indoors. People have started to adapt to the new normalcy in which they celebrated parties virtually and from balconies. Even dating apps have reworked their standard algorithm and have opened up the gates for people to get more potential matches. Romantic dates have changed into virtual dates within the apps. 
Basically, COVID-19 crushed several businesses as most of them have found no way to adapt to the normalcy and get their ends meet. OnlyFans, a peer-to-peer subscription app has exhibited an undeniable increase in popularity and revenue. As people couldn't step outdoors, they started exploring deep into the app to find exciting content. The OnlyFans app is no stranger to controversies as they have been getting involved in them ever since the beginning. But the twist of COVID-19 loose on the streets has made it a need of the hour. 
What do statistics say about OnlyFans?
OnlyFans official Twitter account has gained over 84% of its followers in this pandemic and has been showing steady traffic rate. Its online prominence has crossed borders as the impressions on each one of its posts show its popularity with the modern generation. The organization expanded from its total headcount of 78 in April to 256 currently. Insiders in OnlyFans company started to focus on capitalizing this current spike in the user engagement to turn the tide favorable to them. 
This enormous growth of OnlyFans has rippled across the globe as several entrepreneurs have started launching their OnlyFans clone app to streamline this potential. Currently, there are only a handful of content sharing platforms that let the creators monetize their content. Although creators can upload any kind of content, these platforms are highly popular in the adult entertainment industry. 
The business model of OnlyFans app:
Although enthusiastic entrepreneurs keep launching their custom-made app like OnlyFans globally, the business model and monetary streams remain the same. As the business model of OnlyFans app enables creators to lock their content behind a paywall, content from every industry can be found here. Models, actors, physicians, influencers, teachers, musicians, etc., have used this platform effectively to gain revenue in this pandemic. OnlyFans app has a straightforward registration process and does not keep demanding documents for age verification. However, the users will have to be above the age of 18 to sign up on the platform. Creators can set their subscription fee based on the content they provide. 
How have we perfected the OnlyFans clone app:
We have a proven track record in launching robust subscription-based social media platforms. Capitalize on the recurring market trend with our highly engaging and scalable app like Onlyfans. Our solution comes combined with the abilities of an eCommerce platform and as well as an on-demand video streaming platform. Each creator will get their custom made profile page and can customize it to their taste.  We have incorporated cutting-edge technological stack to provide a seamless user experience for the stakeholders.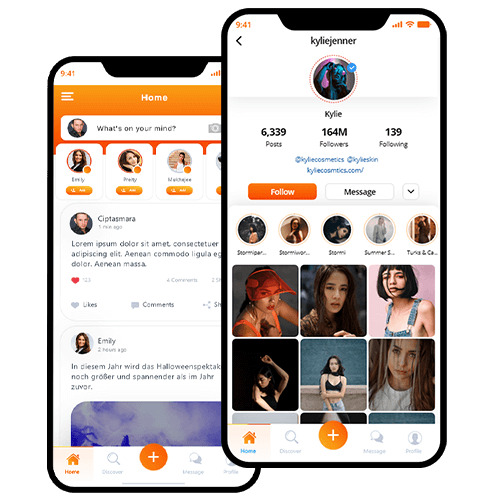 Apart from the essential features, we have integrated some of the advanced features like live streaming, video-on-demand, tipping feature, calendar system, merchandise store, token payments, etc. We have built our solution with the ultimate goal of not only distributing content but to transform peoples' lifestyle to the new normal. Entrepreneurs can seamlessly boost their revenue as we have made a fusion of digital and physical eCommerce stores. You will have revenue inflow not just from commission fee and on-demand video streaming, but can also gain a substantial percentage from the creators' earnings. 
As we have integrated a token-based tipping system, entrepreneurs can gain a significant amount of revenue from it. Our experimental fusion of eCommerce platforms pays off here as you can boost your revenue from the merchandise sale. Private cam shows scheduled by creators will add revenue up to your account. As we have developed a fan club website like OnlyFans commission fee will be added to your treasury for the purchase of every paid photo and video from the creators. 
Bottom line:
Now that you have an idea of the current market for subscription-based social media platforms, capitalize on this lucrative opportunity by getting in touch with our OnlyFans clone app development team. Our clone app solutions are white labelled and fully documented in every possible way. You will get unlimited customization options for integrating exclusive features into your platform. Consult our app development team for additional assistance in understanding the market. As social media networks are imposing more restrictions on its content, people are drifting towards these platforms for its regulation-free content. Streamline this current trend by providing a safe space for creators to carry out their business in a secure manner. The unprecedented fiscal numbers from market statistics have given a green signal for budding entrepreneurs to step into this profitable sector. 
Let's get in touch
We're open for any suggestion or just to have a chat
Address
Murugesan Naicker Complex. Block 3, 6 th floor, No 84, Greams Road, Thousand Lights, Chennai 600006.